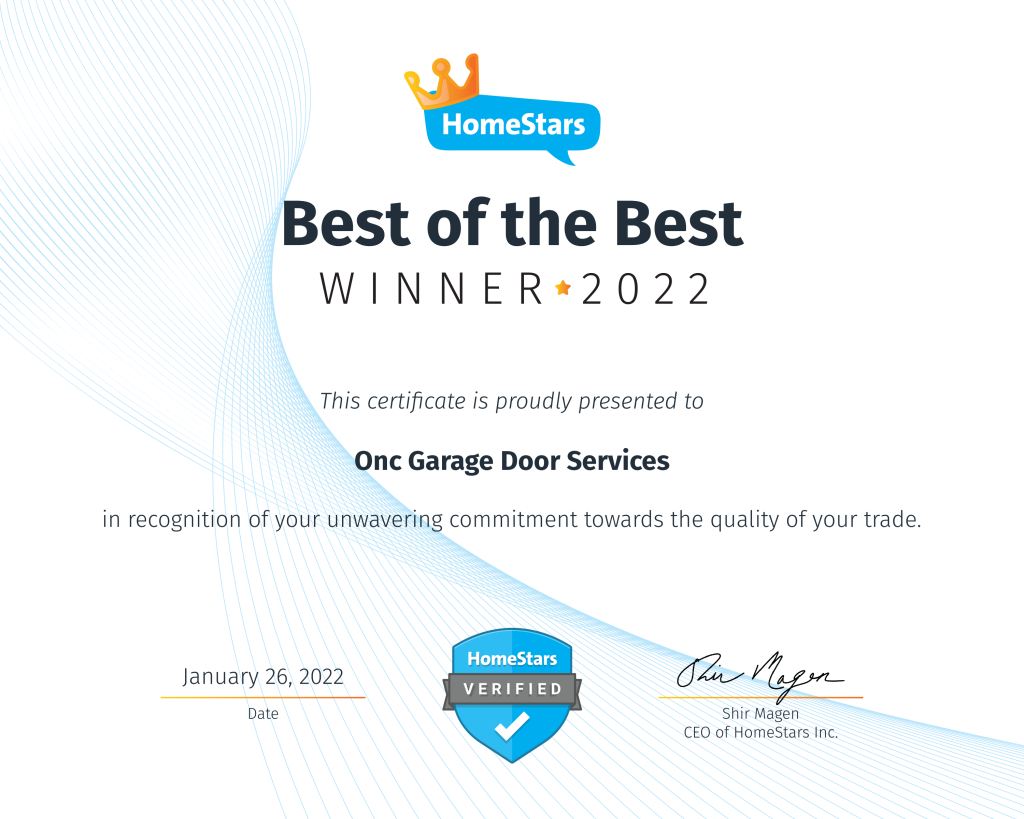 February 22, 2022
ONC Garage Door Services is guaranteed to provide the finest garage door services in Toronto, the GTA and surrounding areas. They are a company that believes in the highest standards of customer service, as well as using top quality garage doors and parts. ONC Garage Door Services has all the expertise to fit you with the right garage door for your home or to make any necessary repairs to your existing door to get it up and running smoothly.
The company was founded in 2015 by John Hamwi. John has always been handy and knew for a long time that he wanted to be a business owner so after working at a garage door company for 3 years, he decided to go out on his own and started ONC Garage Door Services with full confidence that he could do better and create a successful company. His major inspirations have been acquiring the ability to help others, his community and charity organizations. He enjoys the overall freedom that being a business owner has given him and the freedom to help others in need such as low-income families.
John's goal is to change the garage door industry and eventually become the largest garage door company in North America. In the future he would like to manufacture his own high-quality doors as well as getting into research to find new technologies to upgrade garage doors and openers for easier and safer usage. John still describes his company as a small business but has been making massive improvements and quickly gaining success over the last few years.  ONC Garage Door Services has been increasing their sales by 60% yearly.
This massive growth can be attributed to John's work ethics and the basis of how he runs his company. He states that the most important quality in business is honesty and that is the foundation of ONC Garage Door Services. He does not believe in scams, upselling or pricing differences based on age, race, gender, or income. Reputation is key and he strives to have it built around straightforwardness and honesty.
Honesty, drive and hard work ethics is what John describes when looking for new employees.  He states these are three simple qualities but are powerful and necessary for building a strong team. Having a good team with high moral is important to John and he truly realises how necessary it is for success. He believes in working hard but also playing hard. He offers higher than average pay, benefits and company parties and events to show his appreciation for the hard work put in. Again, coming back to honesty with clients and employee pay, he offers a higher hourly wage than the industry standards with no commission so that ONC Garage Door Services can have technicians and a sales team who do not need to sell more to make more money. This results in an amazing customer experience.
John states that the unique aspect of his company is the customer experience. ONC Garage Door Services sells the same high-end products that his competitors do, as well as the same technology at a competitive price, however the difference really is in his customer service approach. John will go above and beyond to ensure that each of his customers has a great experience dealing with ONC Garage Door Services. From the initial phone call to the end of the sale, customer service is the main goal to guarantee customer satisfaction.
You can see from ONC Garage Door Services' online reviews how happy his client base is with the services. They have a 5-star rating with both Homestars and Google. The company has won the Homestars' Best of Award for the last 4 years as well as being chosen as top three best rated garage door companies for Milton and Oakville on threebestrated.com. To quote a couple of their past customers, one said,
 "John offered such good service. He spent time on the phone hearing and discussing our garage door needs and answering our questions. He was efficient and professional, and from our first call to job completion was 4 days (and that's because there was a weekend in between). Thanks for the beautiful and strong door."
Another stated,
"John from ONC was fantastic. He was professional, thorough, and efficient. ONC was able to fit me into their schedule quickly and John's work was great. He was able to assess my needs and perform the installation quickly, then taking the time to show me how everything worked. ONC's prices were incredibly fair and I would definitely recommend them for their services."
 John greatly measures the success of ONC Garage Door Services based on the company's reviews. Having excellent reviews and a pristine reputation is vital to his business. John and his team will continue to provide the best customer service in the industry to further grow and thrive.
As an emerging leader in the garage door industry, you can trust ONC Garage Door Services. This is a company with strong values and integrity. From pricing, to getting the job done right, you can be assured that ONC will efficiently handle all your needs with care. You can also trust that whenever there is an issue, warranty will be honoured as an emergency call. They truly take care of their customers. With their amazing services, they continue to grow, adding more and more happy customers every day.
ONC Garage Door Services is becoming a renowned company in their industry in respect to their fast and reliable repair services, brand new garage door and opener installations and aluminum capping services for garage doors, windows, and siding. With John's 10 years of experience in the garage door industry, ONC Garage Door Services' expertise and customer service has allowed them to gain on their competitors and stand out. ONC Garage Door Services is a company that is guaranteed to continue to be a success and come out on top of the rest.
Contact Details
Website: https://oncdoors.com/
Facebook: https://www.facebook.com/11223ddsfsdf/
Homestars: https://homestars.com/companies/2902292-onc-garage-door-services
Instagram: https://www.instagram.com/oncdoors/?hl=en